Radha Beauty Aromatherapy Top 6 Essential Oils 100% Pure & Therapeutic grade
$

19.25
On sale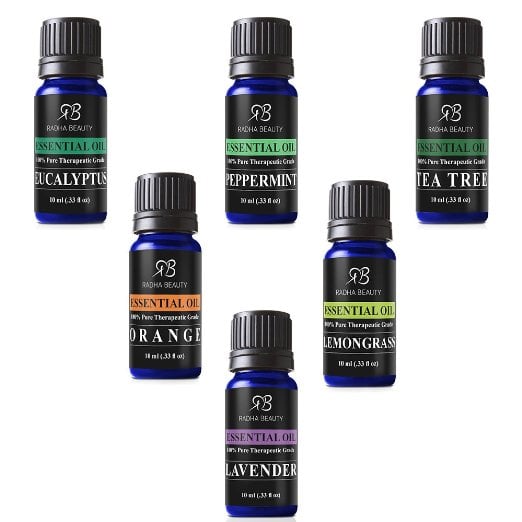 Features
TOP 6 AROMATHERAPY SET: Contains the following therapeutic essential oils: Lavender, Tea Tree, Eucalyptus, Peppermint, Lemongrass, Sweet Orange.
PERFECT GIFT SET: Uses: Aromatherapy, Custom Massage and Body Oils, Vaporizers, Diffusers, Oil Burners, Inhalation, Perfume, Blends, Spa and Home Care, Cleaning Products. For external use only.
100% PURE: No additives, fillers, bases or carriers added.
For external use only, unless otherwise recommended by your doctor, naturopath, or aromatherapist.
RISK-FREE MONEY BACK GUARANTEE - If you are not completely satisfied, simply contact us and we will give you a full refund, no questions asked!
Customer Questions & Answers
Customer Reviews
RBAromatherapy is a participant in the Amazon Services LLC Associates Program, an affiliate advertising program designed to provide a means for sites to earn advertising fees by advertising and linking to Amazon.com. If you click on my Amazon.com links and buy anything, even something other than the product advertised, I earn a small commission, yet you don't pay any extra. Thank you for your support.