Radha Beauty Lavender Essential Oil
$

14.90
On sale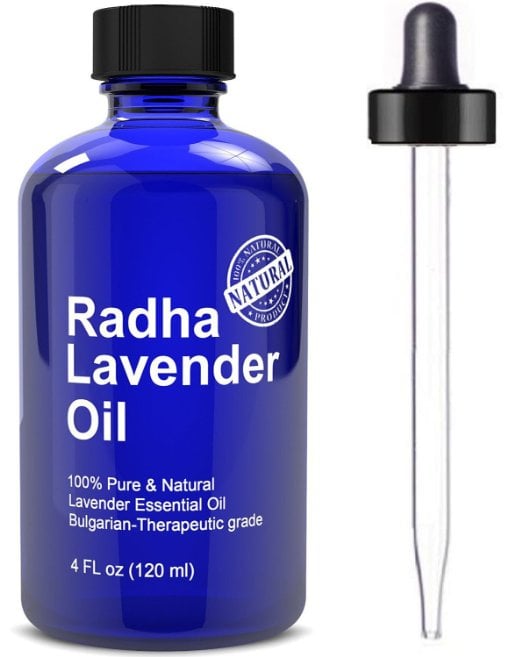 Features
100% Pure Bulgarian Lavender Oil - No Fillers. 4 OUNCE BOTTLE!

HIGH-QUALITY DROPPER - For your convenience when dispensing.

AROMATHERAPY & HEALING PROPERTIES - Great for aromatherapy and relaxation. Improves mood.

VERSATILE ESSENTIAL OIL - Can also be used for massage oils, bath salts and body wash.

RISK-FREE MONEY BACK GUARANTEE - If you are not completely satisfied, simply contact us and we will give you a full refund, no questions asked!

 
Customer Questions & Answers
I personally tested this oil on what is called a GC/MS because I was extremely skeptical that it was real and undiluted. After testing, I found out that this stuff is NOT diluted with anything. Its 100% pure. It evaporates quickly like it is supposed to, smells strong and really does have a great smell. The oil contained components normally found in lavender oil and nothing that it should not. Keep in mind this is Bulgarian Lavender EO which has the more floral notes. It does not have the "medicinal" notes that some of the french lavender EO will have.
If you were wondering, that medical smell actually comes from a chemical that is the main component of Camphor Oil. I tested another lavender oil simultaneously that happened to be French lavender EO and the camphor component was missing.
By Katrina Benzrihem on September 9, 2015
Steam distilled
By Clifford A Thompson on June 6, 2015
Yes! I do, and love it.
By Rhonda on February 4, 2015
It says on the description that they do not have organic certification yet but the oil is natural. I think it's great - strong lavender scent and fragrance lasts a long time.
By $usan on August 3, 2015
Customer Reviews
I love this lavender oil!! I have tried other brands and always got migraines from them. Not the case with this brand. It has so many uses. I put a couple drops in my trash cans, mix it with water to spray on my sheets for a more relaxing sleep, put some in my bedroom and bathroom heat vents, put a drop or two in my toilets when I clean them, use it on my skin to help with relaxing me. And what impressed me the most was that every year I get a very bad rash on my eye lids. They itch, burn and get very red. I have tried so many products and the only thin that has helped is ice to stop the itching. When I got the Radha oil a couple weeks ago I decided to try a bit on my lids. I am amazed!! It has stopped the itching and is healing the skin. I use a q-tip to apply it so it doesn't get into my eyes. I will definitely buy this again. The size of the bottle surprised me too. It is very large so it will last a while. So excited to share this review with my pics showing the difference it is making on my eye lids
By STAM on January 23, 2015
I have recently been making my own skin and beauty products because I have really sensitive skin. So Lavender oil lets me scent my own body washes, or make essential oil blends for perfume. I received this Lavender oil and decided to make a blend using fractionated coconut oil as a base. I also used Radhas Peppermint oil combined with the lavender to make a really nice perfume and put it into an empty perfume roller. It smells divine. Someone gave me a hug goodbye and they said "you smell great". Which was awesome because I had just made the mixture and applied it. This oil is 100% so it is not diluted with oils or alcohol that you often get. The bottle is a lovely cobalt blue which helps extend the life of your essential oils. The size of the bottle is ample at 4oz and should last you a long time. It is glass and it also comes with a glass dropper so you can mix your oils easily. I have also used this to make my own rice packs. You can heat up a rice pack for muscle tension relief by applying a rice pack. I took a wash cloth and filled it with rice and added a couple drops of the lavender oil and stitched shut .I warm it up and place around neck or forehead and lay down. The lavender will act as aromatherapy as well. This lavender oil lasted longer than the other brand of lavender oil I have so I would definitely recommend this.
I've been adding lavender oil to my alcohol free witch hazel and my moisturizer and it's made a huge difference in my skin in terms of healing old acne scars, clearing up blemishes and just giving me a overall much healthier appearance.

I know that a lot of people quote Paula Beqoun as saying Lavender causes Cell death but you have to look at where her miniscule information came from and who she is before you naysay on lavender oil. For one thing Paula is Extremely anti-natural skincare and anti-essential oil in anything and everything. she also has a financial stake in selling her skincare line. she is VERY biased and basis her assumption on a 2 line blurb from an article written in 2002. If you read her reviews on natural and organic skincare all of them have low ratings and she would rather you purchase her chemical laden products. Here's a good article explaining that she absolutely WRONG about Lavender oil.

http://personalcaretruth.com/2011/09/lavender-oil-skin-savior-or-skin-irritant/

for Me Lavender Oil has been a godsend. Whereas Tea Tree oil never did much for me, Lavender oil has been the one thing I've been missing from my skin and Hair care.

Lavender Oil has been used in skincare and health for thousands of years. It has amazing healing properties both physically and mentally. It's a natural cure for depression, anxiety, stress, insomnia, scars, acne, eczema, hairloss, dandruff, scabies, lice, Mosquito repellent, foggy brain (good for those with autoimmune disease with brain fog), Muscle aches, gangrene (Used in the US army medic kit until Vietnam), hormone imbalance, it's anti-asthmatic, burn treatment, good for respiratory ailments, aid in digestive issues and it even fights hard to treat bacterial infections like MRSA
RBAromatherapy is a participant in the Amazon Services LLC Associates Program, an affiliate advertising program designed to provide a means for sites to earn advertising fees by advertising and linking to Amazon.com. If you click on my Amazon.com links and buy anything, even something other than the product advertised, I earn a small commission, yet you don't pay any extra. Thank you for your support.