Radha Beauty Peppermint Essential Oil
$

13.95
On sale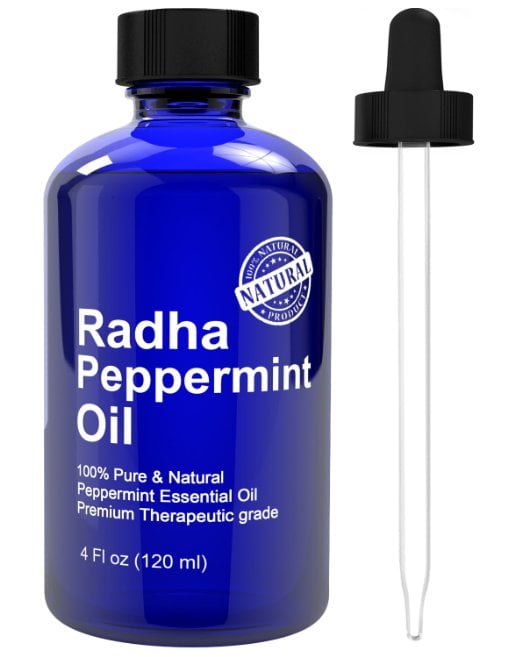 Features
PREMIUM PEPPERMINT OIL - 100% Pure & Natural Essential Oil Therapeutic Grade- Steam distilled.

GREAT MICE AND SPIDER REPELLENT - Use it around the house to keep bugs, insects, mice and spiders away

AMAZING AROMATHERAPY EXPERIENCE- Add a few drops of Radha Peppermint Oil into your oil diffuser to refresh the room with the crisp scent of Peppermint Oil!

RISK-FREE MONEY BACK GUARANTEE - If you are not completely satisfied, simply contact us and we will give you a full refund, no questions asked!
Customer Questions & Answers
I live right on the rivers edge and bugs love water and spiders love bugs. I mixed this oil as an air freshener recipe and sprayed the window sills and door jams, I have seen a dramatic reduction in spiders in the house. I have seen only 2 small spiders in the last 60 days. I had ants in my palm trees on the 2nd floor window shelf, they are gone and the trees are fine. In my opinion a very good bug repellent.
By A. Hansen on September 11, 2015
Absolutely, this is the best quality E O.fixed with coconut oil and shay butter etc.,
By Lisa Dubuque on July 29, 2015
It's glass.
By Silvia Rodriguez on August 2, 2015
Customer Reviews
RBAromatherapy is a participant in the Amazon Services LLC Associates Program, an affiliate advertising program designed to provide a means for sites to earn advertising fees by advertising and linking to Amazon.com. If you click on my Amazon.com links and buy anything, even something other than the product advertised, I earn a small commission, yet you don't pay any extra. Thank you for your support.